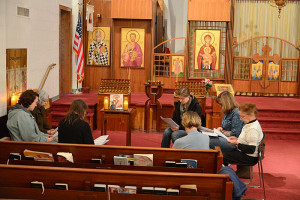 The Blessed Matushka Olga prayer group meets monthly (typically the 1st Tuesday of the month) for intercessory prayer in the church nave around the icon of Blessed Matushka Olga of Alaska. Prayer is followed by fellowship. The group prays for those with specific requests, prays various prayers of the church, and ends with the selected Epistle and Gospel readings of the day. Prayer usually begins at 10:30 AM and ends by noon. In addition to intercessory prayer, the group has begun meeting monthly (typically the 3rd Tuesday of the month) to pray an Akathist. Akathist prayer begins at 10:30 AM and takes place in the church nave. For specific meeting dates and times, please refer to the church calendar. Go to the St. Mark Monthly Calendar
Please feel encouraged to participate or to submit prayer requests to the prayer group. Please be assured that confidentiality is respected and expected.
"Where two or three are gathered in My name, there I am", our Lord said in Matthew 18:20.
Matushka Olga Michael by Fr. Michael Oleksa from Orthodox Alaska: A Theology of Mission
Part One:
The life and death of Matushka Olga Michael, wife of Archpriest Nicolai O. Michael, characterizes in many ways the traditional ideals of her people and faith, including a cosmic dimension unknown in most of the outside world.
Olga (Arrsamquq) or Olinka was not a physically impressive or imposing figure. She bore eight children who lived to maturity, delivering several herself, without the assistance of a midwife. Her sons and daughters cannot recall that she ever raised her voice to them. Real People do not shout. With a large family and a husband often traveling to one of the dozen villages entrusted to his pastoral care, Matushka was always busy, but not only with her own household chores.
In addition to sewing Father Nicolai's vestments in the early years, and crafting beautiful parkas boots and mittens for her children, she was constantly knitting socks or fur outerwear for others. Hardly a friend or neighbor was without something Matushka had made for them. Parishes hundreds of miles away received unsolicited gifts, (traditional Eskimo winter boots, "mukluks") to sell or raffle for their building fund. All the clergy of the deanery wore gloves or woolen socks Arrsamquq had made for them.
As her children grew up and married, Matushka Olga had more than two dozen grandchildren upon which to lavish her hand crafted treasures, but she never restricted her generosity to her own relatives. Week after week she prepared the eucharistic bread (phosphora), serving as the principle agent by which the created universe was transformed into an offering to God at the village Liturgy. Her knowledge of services was exceptional. Not many Orthodox today have committed to memory the entire service for a major Feast, but Matushka Olga knew the hymns of Palm Sunday, Holy Week, and Pascha by heart in Yup'ik. Whenever a visiting priest entered her house, she hurried to don her scarf and approach with her right hand on top of her left, palms upward, requesting a blessing.
Increasingly freed from domestic chores as her remaining daughters assumed more of the load, she traveled with her husband to regional conferences, sharing her experience and wisdom with another generation of matushki. She enjoyed visiting other parishes during selaaviq, but was always glad to return home to Kwethluk. Through her lifetime, the village underwent radical changes. From a circle of small, semi-subterranean sod dwellings, it became a typical Eskimo town with a diesel generator, a grade school and later a high school, a community center, a Head Start program and clinic and several stores. Public radio and television from Bethel, seventeen miles down river, brought news and images of the world into every Yup'ik home. Wood stoves gave way to oil, dog sleds to snowmobiles.
Some years before her death, Matushka began to feel weak and ill but refused to concern any family members about her condition. She did not improve and her daughters noticed her loss of weight. Finally persuaded to visit the Bethel hospital, she was sent on to Anchorage. The specialists diagnosed terminal cancer. It was too late, they said. There was nothing they could do.
Part Two:
Matushka Olga received the news without bitterness or emotion, and returned home to prepare for the inevitable. Her family resolved that medical science would not have the final word, and two daughters left their bedridden mother for Kodiak, where they offered prayers both at Monk's Lagoon and at the reliquary of St. Herman. Upon their return to Kwethluk they found their mother's bed empty. She was outside hauling buckets of water from the village well, no doubt to do a load of laundry, or perhaps to scrub the kitchen floor.
For nearly a year her condition returned to normal, but by conference time the following August, Matushka was too weak to walk or to stand in church unassisted. Archbishop Gregory awarded her the highest distinction bestowed on laity in the diocese, the Cross of St. Herman, draping the red, white and blue ribbon and the enameled cross, bearing in the center the icon of Alaska's first saint, around her neck at the end of the Feast day Liturgy.
Her condition continued to deteriorate over the next several months. She began to prepare for death, instructing her family how to do the things that she had always done for them, and how to distribute her few material possessions among themselves and her neighbors and friends. She had her wedding gown cleaned and asked to be buried in it. She told her sons and daughters not to grieve for her and expressed regret that she had taken a granddaughter into her home, not because she loved her less, but because she feared that the granddaughter might mourn her too deeply. As the end drew near, the grandchildren from distant Mount Edgecombe boarding school were summoned home. An early winter storm delayed them. By the time they arrived she was gone.
The day of her death, the village priest brought her Holy Communion. She sat up in bed, crossed her arms across her breast and received the Holy Mysteries, made the sign of the cross, folded her arms again, lay down and fell asleep in the Lord. It was the kind of death we all request, "A Christian ending to our life, painless, blameless and peaceful…". News of her passing spread rapidly across western Alaska. Planeloads of mourners began to arrive as the evening Panakhida was sung at the house. That night a strong southerly wind blew forcefully and continuously, melting the November snow and river ice. Yup'ik neighbors from nearby villages came to Kwethluk by boat, an impossibility at that time of year under ordinary circumstances.
Hundreds of friends who came from as far away as Lake Iliamna and the Nushagak as well as from the Yukon and upper Kuskokwim villages filled the newly constructed church on the extraordinary spring-like day of the funeral. Upon exiting the church, the procession was joined by flock of birds, although by that time of year, all birds have long since flown south. The birds circled overhead and accompanied the coffin to the gravesite. The usually frozen soil had been easy to dig because of the unprecedented thaw. That night, after the memorial meal, the wind began to blow again, the ground re-froze, ice covered the river, winter returned. It was as if the earth itself had opened to receive this woman. The cosmos still cooperates and participates in the worship that the Real People offer to God.