Dear Brothers and Sisters in Christ,
As we close the Paschal season, I offer these thoughts on the next two great feasts we celebrate, Ascension and Pentecost.
… and lifting his hands he blessed them. While blessing them, he parted from them and was carried up into heaven. And they returned to Jerusalem with great joy. … (Lk 24:51-52).
The Church's celebration of the Ascension, as all such festal celebrations, is not merely the remembrance of an event in Christ's life. Indeed, the ascension itself is not to be understood as though it were simply the supernatural event of a man floating up and away into the skies.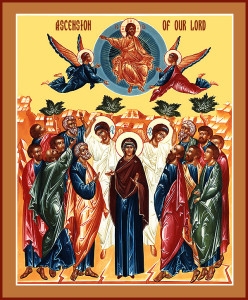 The holy scripture stresses Christ's physical departure and his glorification with God the Father, together with the great joy which his disciples had as they received the promise of the Holy Spirit who was to come to assure the Lord's presence with them, enabling them to be his witnesses to the ends of earth (Lk 24:48-53; Acts 1:8-11; Mt 28:20; Mk 16:16-14). (Fr. Thomas Hopko, "The Orthodox Faith", Vol. 2 Worship)
In the Church's annual liturgical cycle, Pentecost is "the last and great day." It is the celebration by the Church of the coming of the Holy Spirit as the end—the achievement and fulfillment—of the entire history of salvation. For the same reason, however, it is also the celebration of the beginning: it is the "birthday" of the Church as the presence among us of the Holy Spirit, of the new life in Christ, of grace, knowledge, adoption to God and holiness.   This double meaning and double joy is revealed to us, first of all, in the very name of the feast. Pentecost in Greek means fifty, and in the sacred biblical symbolism of numbers, the number fifty symbolizes both the fullness of time and that which is beyond time: the Kingdom of God itself. It symbolizes the fullness of time by its first component: 49, which is the fullness of seven (7 x 7): the number of time. And, it symbolizes that which is beyond time by its second component: 49 + 1, this one being the new day, the "day without evening" of God's eternal Kingdom. With the descent of the Holy Spirit upon Christ's disciples, the time of salvation, the Divine work of redemption has been completed, the fullness revealed, all gifts bestowed: it belongs to us now to "appropriate" these gifts, to be that which we have become in Christ: participants and citizens of His Kingdom.
In the Risen Lord,
Fr. Gregory
Troparion — Tone 4
O Christ God, You have ascended in Glory,
Granting joy to Your disciples by the promise of the Holy Spirit.
Through the blessing they were assured
That You are the Son of God,
The Redeemer of the world!
Kontakion — Tone 6
When You had fulfilled the dispensation for our sake,
and united earth to heaven:
You ascended in glory, O Christ our God,
not being parted from those who love You,
but remaining with them and crying:
"I am with you and no one will be against you!"